Social / Environmental Efforts
Environment Line
We believe that industrial products featuring the bearing metals that we produce will continue to raise expectations for their demand with the growth of domestic and international industries.
Our company recognises that the essential use of harmful substances, such as lead, requires close environmental supervision and vows to take a lead in tackling environmental issues thoroughly.
We comply with environmental legislation and regulations as well as the other requirements we agree and carry out a thorough control of not only harmful substances such as lead but the materials or activities that are considered to affect the environment.
We try to improve our productivity by encouraging the introduction of IT and aim at eventual reduction in cost, leading to labour saving and resource saving.
. In order to meet these goals, we prevent contamination by improving and developing our unique environmental management system with continual reviewing. Also, by publishing our Environment Line, we maintain and develop close outside communications.
1st April, 2009 (5th Edition)
(1st Edition established on 17th May, 2002)
YAMATO METAL CO., LTD.
Managing Director & C.E.O


ISO14001
Our company, for whom the use of harmful substances such as lead is essential, have recognised the importance of its control and maintenance from early on and have taken a strong lead in tackling environmental issues.
Developing environmental practices under the International Standard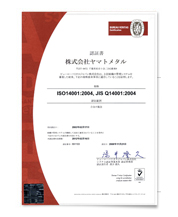 On February 2003 (Heisei15), obtained ISO14001:1996 Certification from Bureau Veritas Quality International (BVQI)
On October 2005 (Heisei 17), obtained ISO14001:2004 Certification
On November 2008 (Heisei 20), obtained ISO14001:2008 Recertification
Since then, we have been working for the prevention of pollution under our environment parameters.