Mather Alloys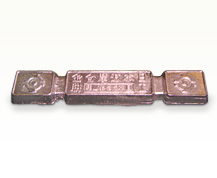 Used for products which require high-strength and corrosion resistance.
We produce a wide variety of master alloys upon request.

<Examples of ingot production>
White Metal
Kelmet Alloy
Copper-Tellurium Alloys
Tin Drop
*Minimum order is 300kg.
*High-frequency furnace - Corresponding temperature: 1500 degrees *Copper-tellurium alloys are machinable used for cutting materials, such as electrodes for electrical discharge machining.
Product image
Tellurium Ingot

Tin Drop